BOWI Call for Mature Hubs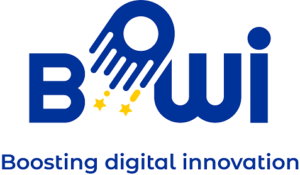 About the Open Call
BOWI widening call for developing digital innovation hubs
BOWI project will offer mature hubs (mature DIHs) media exposure and networking opportunities. Additionally, the mature hubs will be invited to become a long-term member of the BOWI Network, having the opportunity to join the activities planned beyond the project.
The BOWI project will distribute vouchers up to 300k € (to 15k per service) for hubs (service providers) to administer support in the development of the BOWI 3rd Open Call: Call Cross-border Experiments.
A matchmaking process will be done in order to assign validated mature hubs with developing hubs in underrepresented regions, which will be selected via the BOWI 2nd Open Call: Widening Call for Developing Hubs. The selected mature hubs in the matchmaking process will receive per experiment up to 15,000 € for delivering technology support services, having the possibility to support up to a maximum of 4 Experiments, (maximum amount 60,000€). The payment will be done after service validation with the beneficiary SMEs/Midcaps and developing hub.
WHAT ARE THE BENEFITS PROVIDED?
Media exposure
Networking
Exposure in BOWI Marketplace
Up to €60k for service delivery for 3rd BOWI Open Call from Cross border experiments.
BOWI network will explore and create a sustainable collaboration among the regions involved.
All validated mature hubs will become part of the BOWI network being featured in the online community: https://fundingbox.com/c/bowi
Each mature selected (via the matchmaking process) to become service providers will be able to support up to 4 experiments and receive a maximum of 60,000 € (15,000 € per experiment). The support offered to the beneficiary SMEs/Midcaps will be delivered in close collaboration with the developing hubs selected in Widening Call for Developing Hubs.
Mature hubs should take into account that positive validation under Eligibility Criteria doesn't mean choosing them to provide services and acquiring the right to remuneration. Choosing each mature hub to provide services is an individual decision of the Program Coordinator (VTT) and the beneficiaries (developing hubs and SMEs/Midcaps) performing the Cross-border Experiment selected under Open Call 3.
 WHO CAN PARTICIPATE?
Proposals can be submitted by legal entities representing mature hubs registered as fully operational in the European catalogue of Digital Innovation Hubs with expertise in at least one of the following technologies:
-Low energy computing powering CPS
-Cyber-physical and embedded systems
-Internet of things
-Flexible and Wearable Electronics
-Organic and Large Area Electronics
-Man/machine interfaces
-Advanced or High-performance computing
-Robotics for manufacturing
-Additive manufacturing technologies
-Modelling and simulation
-Laser-based manufacturing
-CPS for manufacturing
-Cloud computing
-Digital twins, data sharing, autonomous factories
-IT security
BEFORE APPLYING: