The team of the SmartAnythingEverywhere initiative is delighted to present its latest newsletter. Please feel free to subscribe to it by sending a short notice to news@smartanythingeverywhere.eu!
Dear reader,
Thank you very much for your interest in the latest news of the Smart Anything Everywhere Initiative.
You are very welcome to distribute our newsletter. To subscribe to our news service please send a short email to news@smartanythingeverywhere.eu
Enjoy reading!
Best regards from the team of the Smart Anything Everywhere Initiative
Stephan Karmann & Julia Koch
Hahn-Schickard, Villingen-Schwenningen, Germany
WHAT'S NEW
Join the TETRAMAX Workshop on Transfer to Industry and Start-Ups' at the HiPEAC 2019 conference in Valencia on 21-23 January 2019
This workshop aims at discussing means and ways to improve both the industry transfer as well as stimulating people to transfer their knowledge in business ideas and start-ups. Therefore, the workshop focuses on two main topics "Transfer to industry": How can we improve the transfer of EU research results to industry? Are the existing schemes and organizations (Artemisia, Eniac, Horizon2020) efficient and effective enough? What kind of research project organisations do we need? Etc.
Start-ups: When should one seriously consider going for start-up? What does it take to start a company? How do I start doing it? How can one minimize the risks? What are your experiences with respect to starting a company? For further information click here.
JOIN OUR COMMUNITY
Do you know how to profit even more from the Smart Anything Everywhere Initiative? By becoming a member and joining our community you will benefit free of charge from
our contacts with suppliers and users of innovative digital technologies
get help on the path towards digital transformation and find a Digital Innovation Hub (DIH) in your region to support you
brokerage facilities to look for or launch new proposals or projects
investment opportunities in different digital technology areas
networking possibilities with other members and exchanging information on the latest digital innovations
Joining our community today under https://smartanythingeverywhere.eu/sae-membership
Open & Upcoming CALLS
Currently, several projects aligned to the SAE initiative offer possibilities to engage within their open calls:
Second (and final) Open Call for Application Experiments in the field of microelectronics (apply until January 31st 2019) offered by Diatomic!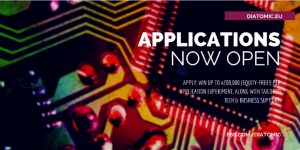 Funding experiment, tech & business support for innovative, marketable solutions focusing the health, agrifood, manufacturing sectors. The call is open to consortia of a maximum of 3 partners from the EU and H2020 associated countries.
The consortium should include technology providers in the areas of advanced microelectronics and smart systems integration (Centers of Competence) as well as tech adopters/ users, namely: startups/ SMEs active in health, agrifood, manufacturing.
What's on offer?
up to €200K equity-free funding per application experiment
tailored technical and business support
advanced technology testbeds
collaborative product design tools
matchmaking services & networking
investment opportunities
Click here for further information
Open Call for Bilateral Technology Transfer Experiments (apply until January 31st 2019)
Tetramax bilateral TTX is a short-term application experiment to boost technology transfer experiments in the domain of Customized Low- Energy Computing for cyber-physical systems and the Internet of Things. Its focus lies in transferring a particular novel hardware or software technology from an academic (or SME) partner to a receiving industry partner to adopt and deploy to achieve improved processes or products and both partners should be located in a different EU country.
Further Information can be found here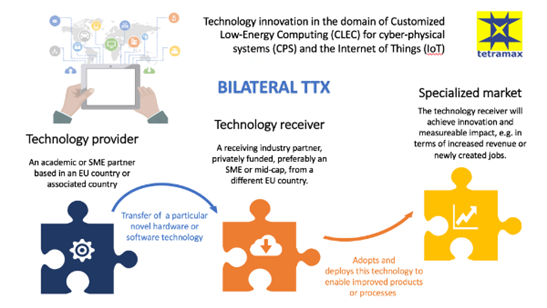 Open Call for Application Experiments (apply until March 5th 2019)
FED4SAE welcomes proposals addressing any smart application domain (mobility, city, health & well-being, industry, agriculture, food, etc.) involving both advanced and industrial platforms. Additionally, in the 3rd open call FED4SAE is introducing three dedicated focus areas to encourage the development of CPS and embedded systems solution in fields presenting growth opportunities in Europe and to support highly innovative experimentation:
Artificial Intelligence and Software-Oriented projects
Smart Cities and Smart Infrastructure projects
Smart Sensor projects
For further information click here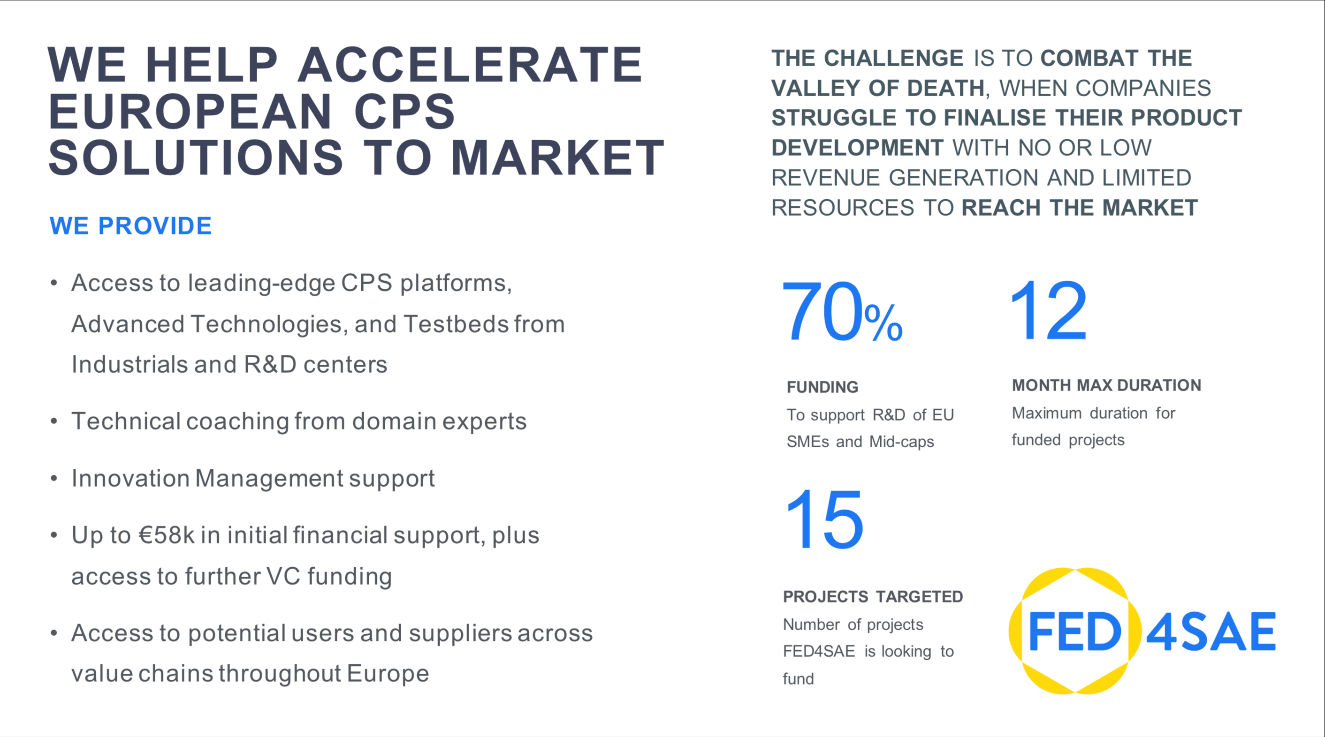 Open Call for Value Chain Oriented and Interdisciplinary Technology Transfer Experiments (TTX) (apply until March 31rst)
Tetramax calls for mid-term (12-18 months) application experiments, implemented between at least three partners from at least two different EU countries with a financial support of up to 100K:
One partner providing a particular novel Customized Low-energy Computing hardware or software technology,
One partner testing and deploying the technology in its dedicated – possibly even non-tech – products with its end customers
One partner productizing this technology as a "platform" for a long-term wider market.
Further information to be found here
Open Call for Flexible Electronics (apply until April 19th 2019) offered by SmartEES
The application experiments aim at providing support to Innovative Companies to access new markets and grow their businesses by integrating flexible electronics technologies into advanced products and services.
Find the complete call text and further information here.
Results of CLOSED CALLS
SmartEES – Flexible Electronics
Following the evaluation process of proposals submitted by the 3rd cut-off date, the SmartEES consortium has selected 4 proposals to proceed with the contracting phase. The projects are focused on integrating flexible electronics into advanced new products.
Altogether 26 proposals were received for this cut-off date, all of which were evaluated by the SmartEEs Evaluation Panel. The funding amount for each of the selected projects will be decided during the contracting phase.
You want to learn more about the selected Application Experiments, click here. Public evaluation reports are linked here.
EVENTS
Meet us at the following events:
January 21-23 2019: HiPEAC, Valencia (Spain)
Annual event of HiPEAC, a European network of almost 2,000 world-class computing systems researchers, industry representatives and students. For further information and registration click here.
Join the TETRAMAX Workshop on Transfer to Industry and Start-Ups' at the HiPEAC 2019 conference in Valencia on 21-23 January 2019. For further information click here
March 19-21 2019: LOPEC, Munich (Germany)
LOPEC (Large-area, Organic & Printed Electronics Convention) is the leading trade fair and the most important conference for the printed electronics industry. It is the leading global platform in the industry and provides support in every aspect of the industry, from application to research. It connects, inspires and puts ideas into practice. For further information and registration click here.
March 20-21 2019: MicroTec Südwest Clusterkonferenz 2019, Freiburg (Germany)
Approximately 200 domestic and foreign experts from industry, science and politics are expected for this event with its focus on networking and exchange of important future trends, and new applications with microsystems technology. Extra-long breaks and pitches for the exhibitors offer many opportunities for networking. For further information and registration click here.
March 25-29 2019: DATE 2019, Florence (Italy)
It combines the world's favorite electronic systems design and test conference with an international exhibition for electronic design, automation and test, from system-level hardware and software implementation right down to integrated circuit design. For further information and registration click here.
April 10-11 2019: SSI SmartSystemsIntegration, Barcelona (Spain)
The international conference and exhibition Smart Systems Integration brings together experts in smart systems and their applications from all over Europe. For further information and registration click here.
PAST EVENTS
EFECS European Forum for Electronic Components and Systems, Lisbon (Portugal)
Given, that it only was the second time EFECS was held, more than 500 participants attended the international conference in Lisbon this year. Smart Anything Everywhere presented the aligned Innovation Actions and their Open Calls at a booth and gave several speeches at the Speakers Corner. The successfully accomplished Innovation Action Smarter-SI was presented as one of three best practice cases with outstanding impact on European SMEs. Given presentations can be found here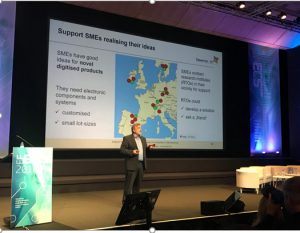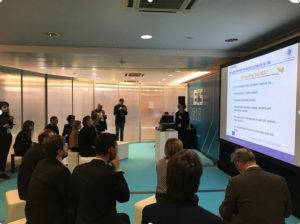 Annual Event of the Digital Innovation Hubs (DIH), Warsaw (Poland)
Over 300 participants from SMEs, start-ups, research and technology organisations and policy-makers from all around Europe gathered in Warsaw to discuss the future of Digital Innovation Hubs. The SAE initiative organised work-shops, matchmaking and networking sessions together with the initiative I4MS. You can find all presentations from the different speakers and highlights of the event by clicking here.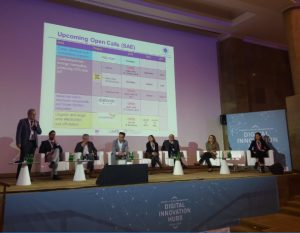 ICT 2018: Imagine Digital – Connect Europe, Vienna (Austria)
As the H2020 flagship research and innovation event with a focus on the European Union's priorities in the digital transformation of society and industry, ICT 2018 provided an excellent opportunity to share experiences and to discuss the vision of Europe in the digital age.
Together with I4MS, the EU initiative to digitalise the manufacturing industry, Smart Anything Everywhere held an interactive working groups session, where participants discussed and elaborated on FSTP processes ("cascade funding"), improvements of service offerings, payment model, or any other suggested topic in need for discussion. Furthermore, at the joint SAE and I4MS booth, many interesting discussions took place amongst the most different stakeholders.
SAE aligned Innovation Action Tetramax organized on 4 December a networking session on technology transfer in low-energy computing, customized low-energy computing for cyber-physical systems and the Internet of Things, moderated by Bernd Janson from partner institution ZENIT.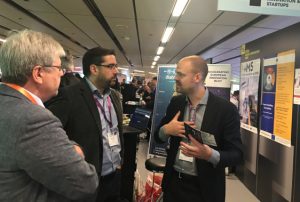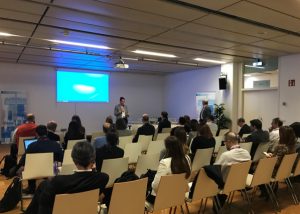 Want to know more?
HELP DESK
Have you seen our brand new online HELP DESK? Find helpful information and a guide for newcomers to the SAE initiative! Click here to get directly to our HELP DESK. Do you have questions? Challenge us and send an email to SAE@smartanythingeverywhere.eu
VIDEO
Check out our new online video on our website! Videos and webinars explaining the initiative, their projects and success stories will be online soon!
Social Media
You don't want to wait for our next newsletter? Follow us on our social media accounts Facebook, LinkedIn and Twitter and get brand new information on time!
Please find further news regularly updated on our website https://smartanythingeverywhere.eu
Feel free to distribute our newsletter to your community!
Your team of the Smart Anything Everywhere initiative
Julia Koch & Stephan Karmann (Hahn-Schickard, Germany)