The team of the Smart Anything Everywhere initiative is delighted to present its latest newsletter. Please feel free to subscribe to it by sending a short notice to news@smartanythingeverywhere.eu!

Dear reader,
Thank you very much for your interest in the latest news of the Smart Anything Everywhere Initiative. You are very welcome to distribute our newsletter. To subscribe to our news service please send a short email to news@smartanythingeverywhere.eu
Enjoy reading!
Best regards from the team of the Smart Anything Everywhere Initiative
Stephan Karmann & Julia Koch
Hahn-Schickard, Villingen-Schwenningen, Germany
WHAT'S NEW
Help Desk
Have you seen our brand new online HELP DESK? Not only FAQs are answered and general information is given but you can also find many helpful information and a guide for newcomers to the SAE initiative!
Click here to get directly to our HELP DESK.
Social Media
You don't want to wait for our next newsletter? Follow us on our social media accounts Facebook, LinkedIn and Twitter and get brand new information on time!
TETRAMAX launches the largest pan-European technology brokerage network on customized low-energy computing
Linking together 28 national innovation ecosystems, representing a total of 370 institutions, the TETRAMAX innovation action on low-energy computing has created the largest pan-European technology brokerage network on low-energy computing. With this brokerage portal, TETRAMAX has become a one-stop-shop for SMEs and larger companies searching for innovative low-energy computing solutions. The online platform has been supported by workshops and training events organized in the first year of the project, which reached around 2,000 people.
Read full press release here or visit the Technology Brokerage Network directly!
JOIN OUR COMMUNITY
Do you know how to profit even more from the Smart Anything Everywhere Initiative? By becoming a member and joining our community you will benefit free of charge from
our contacts with suppliers and users of innovative digital technologies

get help on the path to towards digital transformation and find a Digital Innovation Hub (DIH) in your region to support you

brokerage facilities to look for or launch new proposals or projects

investment opportunities in different digital technology areas

networking possibilities with other members and exchanging information on the latest digital innovations
Joining our community today under https://smartanythingeverywhere.eu/sae-membership
Open & Upcoming CALLS
Currently, several projects aligned to the SAE initiative offer possibilities to engage within their open calls:
Open Call for Flexible Electronics Products (apply until November 16th 2018)
SmartEES is an European acceleration program, supported by the European Commission and dedicated to help innovative companies access new markets and grow their business by using flexible electronics in new lines of products.
50 innovative solutions of Organic and Large Area Electronics (OLAE) will be offered in the fields of organic photovoltaics, flexible displays, OLED lighting Electronics & components or Integrated Smart Systems to design and launch new product ideas.
Further Information will be available here
Open Call on Entrepreneurial TTX (apply until November 30th 2018)
The overall goal of an Entrepreneurial Technology Transfer Experiment (TTX) is to mobilize, challenge and train small teams of potential entrepreneurs in the Customized Low-Energy Computing (CLEC) space, thereby having a long-term perspective. Therefore, this TTX is solely devoted to the exploration and evaluation of market and business opportunities, for example for typical "start-up formation" scenarios and acquisition of investments in the longer term. The focus is on a critical and systematic evaluation and generation of sustainable business opportunities for new, possibly disruptive, actors in Europe's digital technology markets. A TTX team intends to bring itself towards a convincing business idea and to get "investor ready". The TTX is a framework for describing a new technology-based business using a Business Model Canvas.
The expected Technology Readiness Level (TRL) may range of 2-4. For further information click here.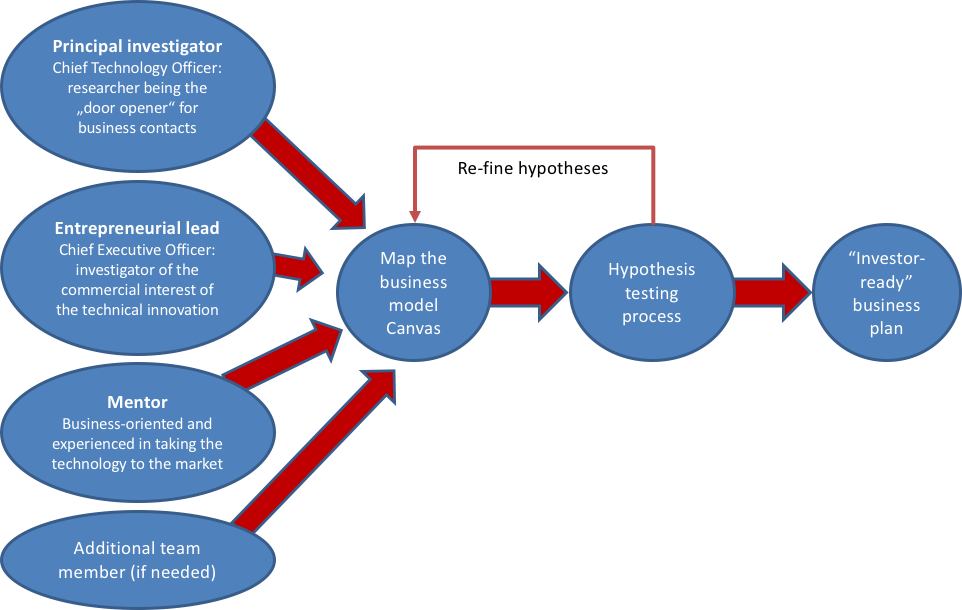 Open Call for Bilateral Technology Transfer Experiments (

apply until January 31st 2019)

The Bilateral TTX is a short-term application experiment to boost technology transfer experiments in the domain of Customized Low- Energy Computing for cyber-physical systems and the Internet of Things. Its focus lies in transferring a particular novel hardware or software technology from an academic (or SME) partner to a receiving industry partner to adopt and deploy to achieve improved processes or products and both partners should be located in a different EU country.

Further Information can be found here.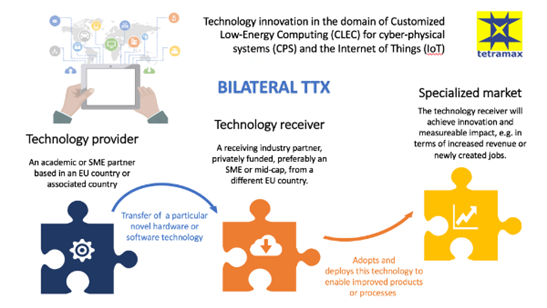 Upcoming Call for Flexible Electronics Products (call opens in November 2018)
Federated CPS Digital Innovation Hubs for the Smart Anything Everywhere Initiative: Third open call for Application Experiments – Up to €60K funding, technical and business coaching available to support European companies to develop smart applications.
Third call will open in November. For further information click here
Results of CLOSED CALLS
Closed Call for Value Chain Oriented and Interdisciplinary Technology Transfer Experiments
The TETRAMAX second call for proposals is completed and three experiments were selected.
The first call for Value Chain Oriented and Interdisciplinary Technology Transfer Experiments (TTX) addressed innovation projects between three or more European partners in the domain of customized and low-energy computing for cyber-physical systems and the Internet of Things. In total, 14 eligible TTX proposals were submitted for this first value chain-call by 31 May, 2018. Three promising experiments were selected: BLEUN, NOX.BOX and Eco-Rural-IoT. TETRAMAX has allocated €238.778 of financial support for these new TTX. The chosen applicants identified the right consortia, across the national borders and across different areas, tackling issues with a clear ecological, economical, and societal focus.
Read more here
New experiment 'HeartStep' funded by TETRAMAX first call for bilateral TTX
The first call has already closed some time ago, but the withdrawal of another experiment has made room for 'HeartStep' to step in and receive financial support of €42.005. HeartStep is a TTX between Ruđer Bošković Institute, a Croatian research institute and SAVING trgovina in storitve d.o.o, a company in Slovenia. Together they are working on the improvement of a smart body gadget monitoring the heart, which saves time in the diagnosis of heart patients and is already used in many clinics in Slovenia and the rest of the EU.
Eight consortia selected to take part in DIATOMIC
With focus on health, agrifood, and manufacturing sectors, uniquely suited to microelectronics startups/ SMEs seeking to accelerate the time to market of novel digitized products and services, it offers an intensive, milestone-driven acceleration program, designed around 3-stages, each of which is a step closer to market entry: 'Design', 'Develop', 'Market'.
Some high-level benefits include up to €200k in equity-free funding per application experiment, access to advanced technological tools and testbeds, as well as mentoring/ networking services to speed up time-to-market of novel products and services based on advanced microelectronics technologies and smart systems integration.
Take a look at the DIATOMIC application experiments' portfolio to learn more about the solutions being developed and journey to date.
StoryWine – From vineyard data to a solution for wine production optimization and wine story-telling (agrifood)

SmalTec – Smart Flooring Technologies (health)

CYRUS – Cyber Physical Extrusion System (manufacturing);

MEDICATION – Smart Medical Platform System Integration (health)

CHAT – Chicken Health Assessment Toolset (agrifood)

SMART WEARABLE – Smart Wearable Robot System for lower-limb Neural Rehabilitation (health);

eOP – eOrchard Pistachio (agrifood)

Agrinav – Precision Fertilizer Spreading (agrifood)
EVENTS
Meet us at the following events:
November 20-22 2018: EFECS: European Forum for Electronic Components and Systems, Lisboa (Portugal)
Presentations and poster exhibition. For further information and registration click here.
DIATOMIC Matchmaking Sessions @EFECS 2018
Finding new collaboration partners for your application experiment can be tough. DIATOMIC offers a pool of more than 200 tech providers, tech adopters and end-users through its pan-European network of Digital Innovation Hubs.
Come visit DIATOMIC booth at EFECS 2018 (20 – 22 November, Lisbon). Our team is organizing a series of brokerage/ matchmaking sessions where microelectronics startups/ SMEs can meet with Competence Centers from across Europe.
You do not only get the chance to find potential collaboration partners with whom to apply for DIATOMIC Open Call #2, but also learn about DIATOMIC service offers – specialized technical & business support, as well about €200K equity-free funding available to digitalize your business.
Why participate?
Benefit from pre-arranged, personalized one-to-one meetings;
Connect with AME/SSI technology providers;
Learn about DIATOMIC funding opportunities;
Initiate cross-border contacts, and explore potential opportunities for cooperation in targeted focus areas – health, agrifood, manufacturing;
Get to know DIATOMIC application experiments – winners of the Open Call #1, as well as DIATOMIC in-house testbeds;
With whom?
Invited are microelectronics SMEs/ mid-caps, competence centers, research & technology organizations, universities/ labs, as well as startups/ SMEs in health, agrifood, manufacturing (Industry 4.0). Apply for a session via F6S. Application deadline: November 19, 2018 @ 12:00 pm CET.
Note: Your participation in DIATOMIC matchmaking sessions is free of charge. For conference tickets please check here: https://efecs.eu/
For more information and any additional questions, feel free to contact Maja from DIATOMIC communication team info@diatomic.eu.
November 27-28 2018: Annual Event of the Digital Innovation Hubs (DIH), Warsaw (Poland)
Digital Innovation Hubs (DIHs) are at the core of the Digitising European Industry initiative. They are already helping companies -especially SMEs- all across Europe to digitalise their products, processes and services through innovative technologies. This event will bring together the different actors involved in the digital transformation of European industry, namely companies, research and technology organisations, Digital Innovation Hubs, policy makers and EU representatives. The 2018 DIH Annual Event aims to reinforce the capacity of DIHs so that they can further support European companies in their digital transformation. Find further information here.
December 4-6 2018: ICT 2018: Imagine Digital – Connect Europe, Vienna (Austria)
Together with I4MS, the EU initiative to digitalise the manufacturing industry, Smart Anything Everywhere will hold interactive working groups session, where participants discuss and elaborate on FSTP processes, improvements of service offerings, payment model, or any other suggested topic in need for discussion. This workshop session is scheduled for 5th December, 16:30 to 17:15 in Room 2.15. For further information and registration click here.
PAST EVENTS
Several events focussing on the development of the new EU member states (EU13) took place such as
SMART AND DIGITAL FUTURE, Vienna, 20th September 2018
Networking event for suppliers of advanced hardware and software solutions and for manufacturing companies willing to innovate their products, services and processes. The goal of the event is to foster cross-border and cross-sectoral collaboration mainly within the region Vienna – Brno – Bratislava.
European Week of Regions and Cities, 11th October 2018
Networking event "Smart Factories in new EU Member States", find further information here as well as the Workshop "Co-design Digital Innovation Hubs in New Member States" Brussels, further information can be found here
Please find further news regularly updated on our website https://smartanythingeverywhere.eu
Feel free to distribute our newsletter to your community!
Your team of the Smart Anything Everywhere initiative
Julia Koch & Stephan Karmann (Hahn-Schickard, Germany)