SMART4ALL Webinar Preparation for CTTE OC
Join this webinar on February 24th, 2021 from 12:00-13:45 (CET) and learn how to take advantage of the deadline extension for the ongoing CTTE Open Call (https://smart4all-ctte.fundingbox.com/)!
The SMART4ALL consortium is inviting all interested parties to register for our webinar dedicated to helping all applicants to increase the quality and competitiveness of their proposals.
The webinar will cover the following topics:
SMART4ALL network of Digital Innovation Hubs
Open Calls overview
Guidelines on competitive proposal preparation for SMART4ALL Open Calls
Presentations by previous open call winners focusing on the aspects of excellence, impact and implementation
You can register for the webinar using the following link:
https://forms.gle/M6ZXcDSxNZsL2WVX7
THERE IS NO REGISTRATION FEE FOR THE WEBINAR. Upon registration you will receive the agenda, the invitation link and the password to the webinar. The registration will be open until February 23rd, 2021 at 12:00 CET (noon).
DISCLAIMER: The capacity of the webinar is 500 participants and we accept the participants on the first come, first served basis. In case all seats are reserved prior to the registration deadline, we may opt to close the registration earlier.
The SMART4ALL is an extensive network of Digital Innovation Hubs aiming at boosting digital technology uptake and corresponding business development across South Eastern and Central Europe. It builds capacity via the development of self-sustained cross-border pathfinder application experiments that transfer knowledge and technology between academia and industry. Main domains target are Digitized Environment, Digitized Agriculture, Digitized Transport and Digitized Everything. We invite you to join the SMART4ALL via https://smart4all-project.eu/joinus and to explore our website at the following link: https://smart4all-project.eu/.

FED4SAE brings success to startups across Europe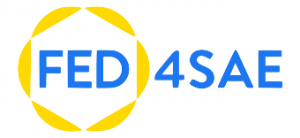 After three years, the FED4SAE programme has concluded. Since its launch, the programme has directly supported 32 companies from across Europe to create an array of prototypes and innovative products which increased the competitiveness of European innovators in the CPS and embedded system markets, as well as working to expand Digital Innovation Hubs across the continent.
FED4SAE has helped to create a competitive ecosystem where European startups and scaleups can thrive with access to leading technology sources, competencies  and industrial platforms, as well as well-connected business infrastructure and existing regional innovation hubs.To celebrate the results from the programme, the FED4SAE website has been updated as a showcase of the work done so far and the many successes that the startups have achieved.
The open calls for this programme, through brokerage events, booths, FED4SAE information workshops, webinars and website communication, raised awareness of the FED4SAE initiative with over 3,000 companies, with proposals sent from 34 countries across Europe; 97% of all the submitted proposals included partners at least from two different countries.  The broad range of industrial platforms, advanced technologies and testbeds offered by FED4SAE also translated into a wide range of targeted technical fields and application domains in both the received proposals and those that were granted: from computer vision, machine learning, virtual reality and artificial intelligence to smart sensors, and audio processing. In total over 30 different technology uses could be identified, with usually more than one field being featured in a proposal.
The companies that were selected had access to:
Up to €58k funding
End-to-end services
Leading edge industrial platforms
Research institutes advanced technology and testbeds
Support through technical expertise and coaching
Business and market analysis and guidance from concept through market release.
The management of innovation within the programme formed a coaching process that was implemented in three steps:
The strategic elements are discussed in the early stages of the project
The future execution of the product launch is then looked into
The financial issues dealing with the ROI and access to funding.
These elements were investigated during a series of meetings with each company, tailored to that company's perspectives and needs.
The success stories from the programme are numerous including:
Safecility – the development of an IoT solution for testing emergency lighting, it has already gained four customers that adopted the company's product and it has begun to structure its sales. Additionally, in October 2020, Safecility was shortlisted by LUX for the Lux Awards 2020 Emergency Lighting Product of the Year
CheckBnB and EnergyCcM – Eco Smart Homeproject, initially aiming at reducing energy wastage in holiday homes, though the team was able to successfully pivot after COVID-19 impacted its business
BETTAIR – met the needs of environmentally-aware cities in Europe, becoming one of the major players in its field through support from FED4SAE
Surewash – developed hand hygiene solutions to reduce infections in hospitals, food preparation, sports or education, a topic that became even more pertinent after the outbreak of COVID-19
ASINCO – produces radar-based measurement technology that is now being sold to customers with expected sales of up to €5 million in the next two years
Energica Motor Company – worked with FED4SAE to support the development of a smart battery monitoring system for electrical motorcycles to insure safe battery changing operation and better managing battery cycles during MotoE competition races for which Energica has been chosen as the single manufacturer of the series
FED4SAE relied on its consortium of 14 partners spread across 10 different countries, to provide a unique marketplace providing access to technologies, technical expertise, business and financial services. With these partners' help, this programme has helped provide new opportunities for European startups. Even though FED4SAE has come to an end, there are still ample opportunities for European startups to continue to improve and develop. In particular, DigiFED, that aims to support companies in their digitization routes and enhance the DIH offer and increase DIH collaboration across the continent, and Smart Anything Everywhere, which offers startups access to funding and expertise through other DIHs, are able to provide more of the support and value that FED4SAE has previously.
Despite the impact of COVID-19, FED4SAE has continued to help startups across the continent, by using funding and virtual assistance. The startups that  took part were able to adapt and largely able to work during the pandemic. For example the Eco Smart Home project was able to pivot its plan to take into account COVID-19 and still complete the project. It is the spirit of cooperation and perseverance that will continue through the programmes that succeed it; the same spirit that will help the European startup infrastructure thrive in the face of the pandemic and its effects.
For more information on FED4SAE, to check the results of the programme, success stories and other funding opportunities, please visit the FED4SAE website.

This German online event brings together experts from AI, Additive Manufacturing, Sensing, Open Innovation and Smart Production. Learn more about SAE funding and success stories on our joint booth together with Hahn-Schickard!
Donnerstag, 11. März 2021

Innovativ zu sein bedeutet, neue Wege zu gehen – gerade in Zeiten wie diesen. Daher bringt das 12. InnovationForum Smarte Technologien & Systeme am 11. März 2021 Unternehmer und Experten aus der Industrie mit Wissenschaftlern erstmalig virtuell zusammen.
Welche Technologietrends haben die besten Chancen? Was treibt die Branche an? Welche Standards werden sich etablieren? Welche neuen Verfahren können bald genutzt werden? Wie und wo können die Materialien für das neue Produkt oder das neue Verfahren beschafft werden?
Zum 12. Mal präsentieren Referenten fortgeschrittene Ideen in aus der Welt der Künstlichen Intelligenz, Additiven Fertigung, Sensorik & Aktorik, Open Innovation und Smarten Fertigung & Montage. Sie erfahren aus erster Hand, welches Potenzial in den Technologien steckt.
Sprechen Sie gleich "vor Ort" mit den Experten und den anderen Teilnehmenden über weitere, gemeinsame Entwicklungsschritte. TechnologyMountains setzt mit dieser Veranstaltung gezielt auf branchenübergreifenden Dialog und Austausch. Das InnovationForum Smarte Technologien & Systeme bringt Unternehmer, Manager, Entwicklungsleiter und Ingenieure aus der Industrie mit engagierten, kreativen Wissenschaftlern zusammen und bietet die Plattform für Diskussion und Austausch unter den Entscheidungsträgern. Das soll auch in der virtuellen Version so bleiben. So wird es auch digital eine virtuelle Messeplattform und eine Lounge geben, in der Sie sich mit den anderen Teilnehmern austauschen können, denn das Networking soll auch weiterhin im Fokus des Events stehen.
SAE wird am Stand von Hahn-Schickard zu den verschiedenen Förderungsmöglichkeiten informieren!

Paving the way to digital transformation and higher added-value innovation, the SAE, FED4SAE initiatives & Partners launched with BLUMORPHO the FED4SAE Innovation Club. This first edition of the FED4SAE Innovation Day took place on the 21st of January 2021 as the main event to gather a unique network of European Innovation Stakeholders providing the best access to technology, business and funding.
Technical workshops animated by THALES & INTEL provided a unique opportunity for start-ups to strengthen their relationship with these two key industrial partners. The Innovation Day was concluded by a panel discussion titled "Towards a European green and digital transformation" with the participation of Markku MARKKULA, Vice-President of the European Committee of Regions, who closed the session.
LIVE networking tools were available to all participants including a dedicated Networking App that facilitated connections and exchanges.
A 30 mins edited video from the 3H reverse pitching of the morning session including all the speakers and a large part about FED4SAE initiative.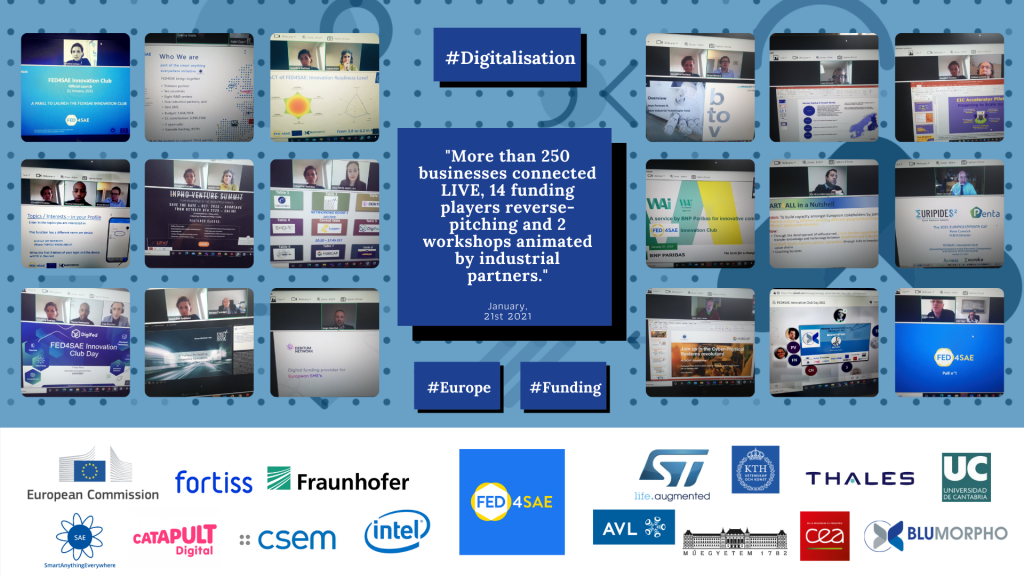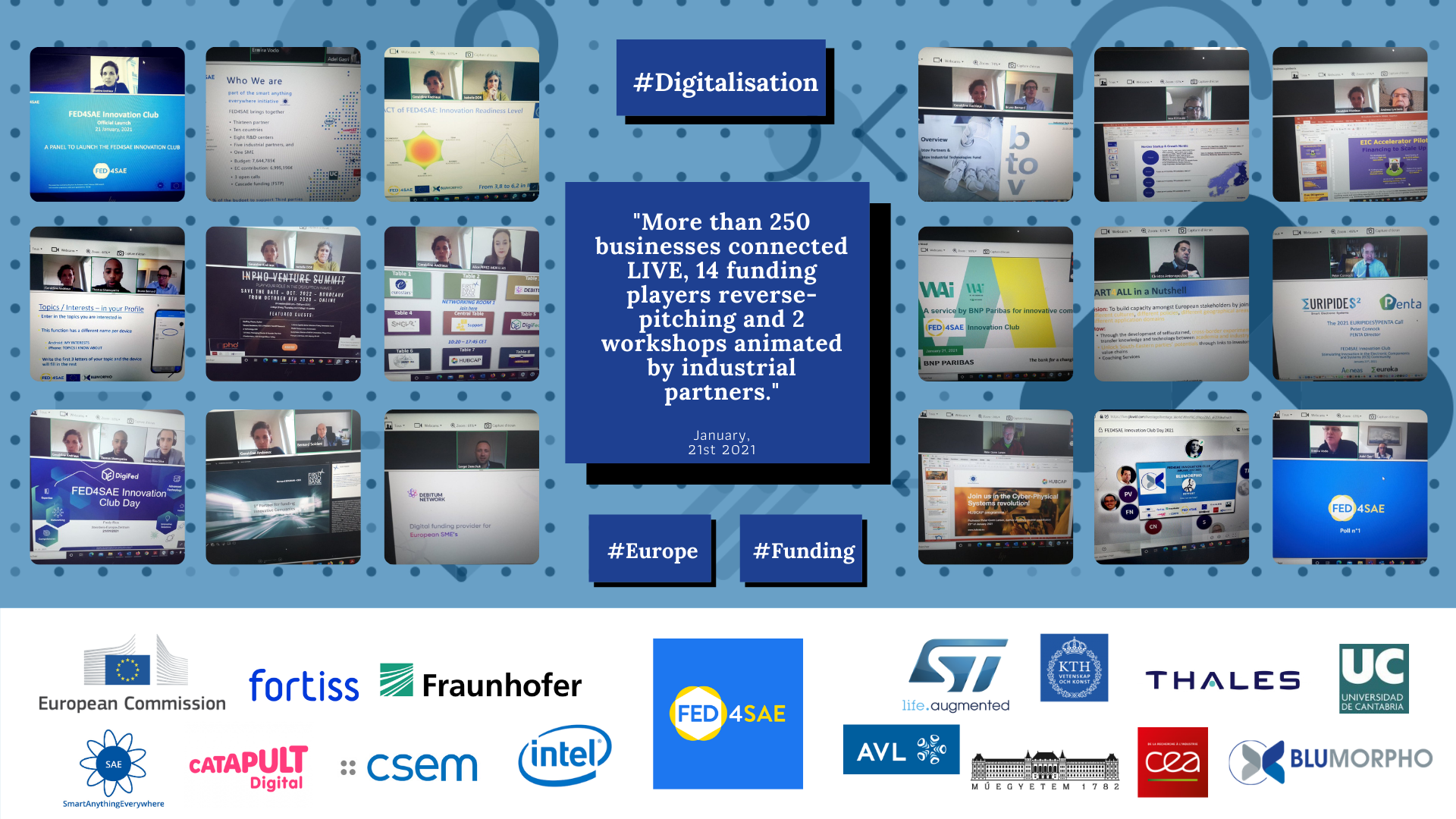 What is SAE all about? Learn more in this short video!
Check out the latest issue of our newsletter and learn more about
new funding opportunities
events we will attend
results of closed calls and
news from related initiatives and cooperations
How do you like our newsletter! Help us improve by answering this short survey

SAE Newsletter October 2020
Autumn is the Season of Collaboration and Online Events!
Our latest edition of the SAE newsletter is available.
Find it here and enjoy reading!
The team of the SmartAnythingEverywhere initiative is delighted to present its latest newsletter. Please feel free to subscribe to it by sending a short notice to news@smartanythingeverywhere.eu!
The team of the SmartAnythingEverywhere initiative is delighted to present its latest newsletter. Please feel free to subscribe to it by sending a short notice to news@smartanythingeverywhere.eu!
The team of the Smart Anything Everywhere initiative is delighted to present its latest newsletter. Please feel free to subscribe to it by sending a short notice to news@smartanythingeverywhere.eu!